( Cold smoked ham ) 1. Raw material:
Bone-in and leg pork ham – 12 kg.
2. spices for marinade using the dry method:
Dry pickled marinade salt – 12 kg x 20 g = 240 g
Cilantro coriander in grains – 2 tea spoons
Mustard in grains – 4 tea spoons
English herb – 1 teaspoon
Pepper in grains – 3 teaspoons
Bay leaf – 6 leaves
Garlic – 12 teeth.
3. spices for marinade to (4% injection):
Water – 2 liters
Peclosol – 40 g x 2 liters = 80 g.
Cilantro coriander in grains – 1 teaspoon
Mustard in grains – 2 teaspoons
English herb – 1 teaspoon
Pepper in grains – 1 teaspoon
Bay leaf – 3 leaves
Garlic – 3 teeth
Sugar – 12 kg x 25 g = 300 g.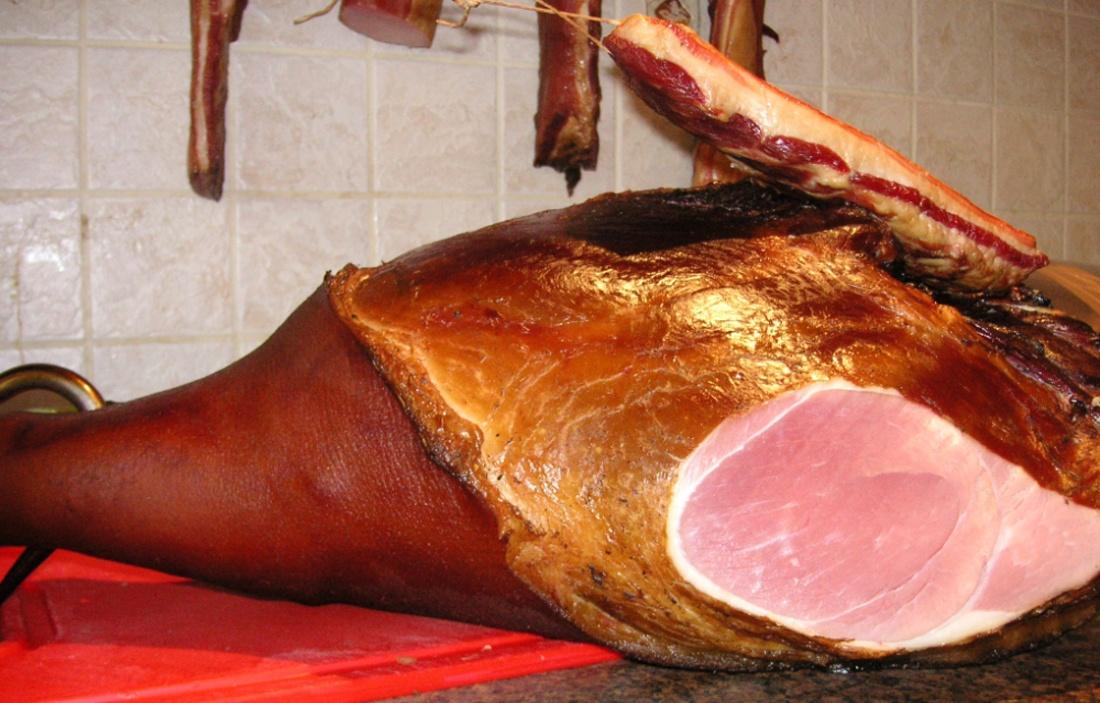 4. the method of preparation: We choose a nice young ham with skin with knuckle and leg. The meat should be fresh, characterized by its firmness and elasticity and smell. Mouldy deposits and slime are not allowed. The meat should have an appropriate acidity – the best is approx. 5.5 pH . Then the best curing parameters are obtained – water absorption and aromas. Cilantro, mustard seed, allspice, pepper, grind in a mortar, garlic squeeze through a press or crush with a knife, bay leaf crush. Mix all the spices with peclosol, rub the ham evenly. Put them into a stainless steel or stoneware pot. Store in a cool room at 4˚C – 8˚C five to six days, turning over twice a day. After 6 days: Prepare a 4 % marinade for meat injection: Boil water, spices – mustard, coriander, pepper, allspice – grind not too hard in a mortar. Add sugar and chopped spices to boiling water, mix and cool. Crush the garlic and peclosole and add it to lukewarm water with spices, mix and sieve. Inject the whole content of the liquid into the ham and leg, paying attention to the precise and good sharpening of the places at the bone. After 48 hours (further stored in a cool place: 4˚C – 8˚C .) the ham should be rinsed in lukewarm water, remove the spice grains from the skin and then dry it and put it into a smokehouse. Note: For marinades used externally, it is unlikely that we use dusty spices – it is difficult to remove them from the meat. Not removed before smoking will leave black marks on the meat making a visual impression of dirty places.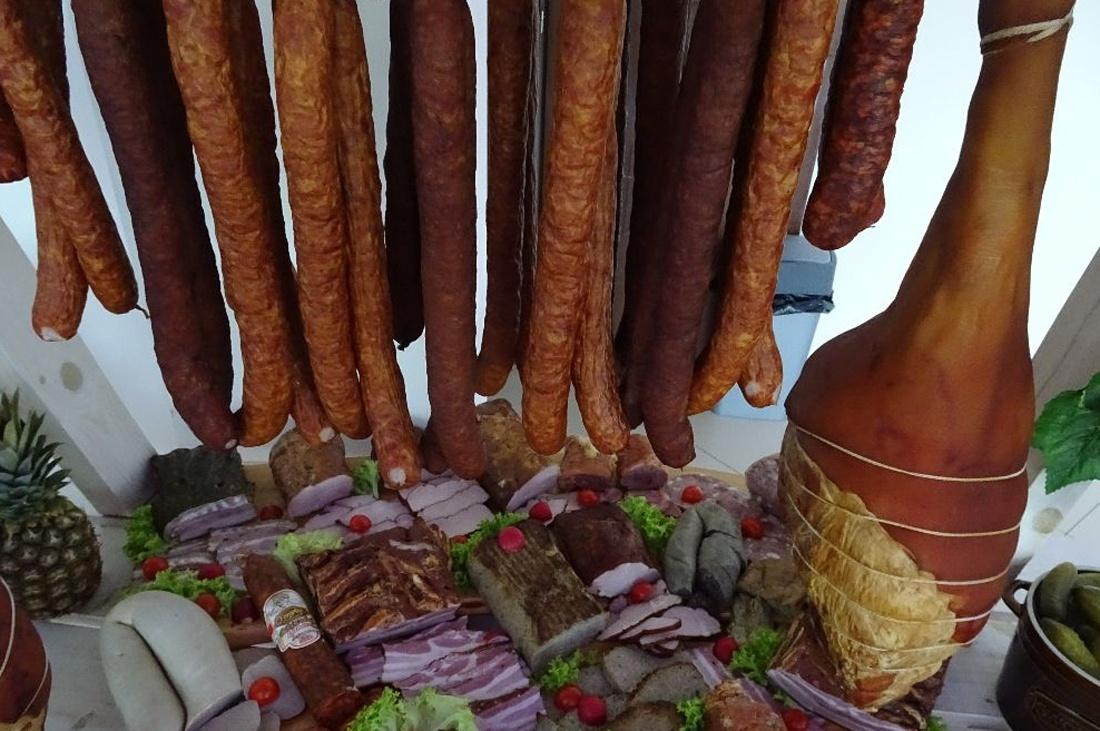 5. smoking: Cold smoking is best: It is carried out at a temperature below 27°C with medium smoke density, high humidity of about 85% and poor air movement. Smoke for several hours a day for several days. The smoke in the smokehouse should penetrate completely smoked products, thus preserving them well. The color of the product after smoking should be from golden to dark brown depending mainly on the type of product and the type of wood. Each wood (see wood) has its own pigment which paints the meat with the appropriate color during thermal processing. The best device for smoking with different methods at home is the brand's barbecue-smoking facility: SMOKER type: Queen. For business: King K 600, King, Smoker 600 During the summer season in dragons it is difficult to keep the temperature low especially during a sunny day because of the boiler plate from which the barbecue-smokers are made, which in the sun can spontaneously heat up to 50 ˚ – 60 ˚ C, so the only time for cold smoking is night. Unless it promises to be a cold day. The loss of weight during cold smoking is about 20%. Note: It is worth to protect your leg before putting it into the smokehouse by lacing it well. Under the influence of the weight it may break off in the place of the joint tendons. This is particularly important for hot and hot smoking. Leszek Kosarzecki