Author: Marcin Piotrowski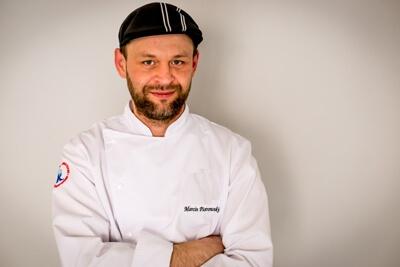 Ingredients:
tuńczyk
oil
light soya sauce
mango
pineapple
rice paper
Coriander
Bell pepper
dark sesame oil
Mint
Cucumber
nasturtium
harescent sorrel
Implementation:
Cut fruits and vegetables into long "French fries" rice paper, moisten it with cold water, place vegetables, fruits and leaves of herbs on it.
Wrap it in a croquet.
Rub the tuna with oil and grill on each side in a smoker-type grill. In the final stage of the barbecue you can add a few coconut shells to the hearth.
After grilling the tuna we sprinkle with soya sauce.
In a bowl, mix the remaining vegetables and herbs with soya sauce and a few drops of sesame oil.
On the plate we serve the salad rolled fresh roll's and sliced tuna on it.
Marcin Piotrowski