On 2 and 3 October 2020 in Nieporęt, at the Parasol Hotel, an unusual event was held under the name , the Great Barbecue of the Brethren – Beef Grill of Nature Taste".
The organizer of the meeting, and basically and the Polish Beef Steak Grilling Championship was the Polish Grilling Association and BBQ.
This is a continuation of an extremely valuable initiative to promote the preparation and production of very valuable food such as grilled/smoked meat, and in particular to promote the preparation and consumption of the best quality of various little-known beef pieces.
This public event has gathered a multitude of professional barbecue and BBQ masters, meat and food experts and lovers of natural and traditional food of the highest quality.
The competitive struggle of the best connoisseurs of "stealing" in Poland was intertwined with numerous competitions, presentations and lectures on the advantages of producing and consuming beef as the most valuable meat.
Discussions and exchange of views concerned the whole range of issues from breeding slaughter animals, obtaining the best culinary meat, its exceptional nutritional value, food safety of meat and its products, to the presentation of rich technology and equipment and the best techniques and principles of smoking, barbecue and bbq (barbecue).
The measure of this magnificent and prestigious event was the participation of the best in Poland and abroad, including BBQ champions from the USA, celebrities, representatives of the most important media and a very large audience.
With great weather and family atmosphere, you could enjoy a real Beef Meat Festival, whose consumption is inextricably linked to the essence of the human species, but also and above all to Polish and European culture and our invaluable national heritage.
The participants, while eating fantastically prepared steaks and meat dishes with special sauces and additives, couldn't help but admire their taste, texture and innovation. The participants also admired the wonderful and spectacular meat processing equipment and its perfect workmanship.
To sum up, it should be emphasized that the above initiative deserves the highest praise. This is an example of beautiful passion and life commitment of many people who have created a kind of family-clan cluster of enthusiasts and devoting their time and energy to infecting the beautiful idea of culinary promotion of extremely valuable food which is Polish Beef.
The promotion of such initiatives will increase the emergence of new beef recipes, the emergence of numerous groups of beef enthusiasts.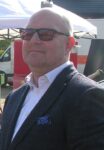 Jacek Kucharski
Deputy Chief Officer of the                      Republic of Poland 2019 r.